COMFORT MEETS KYDEX – By Doug P spotterup.com
Posted on November 19 2018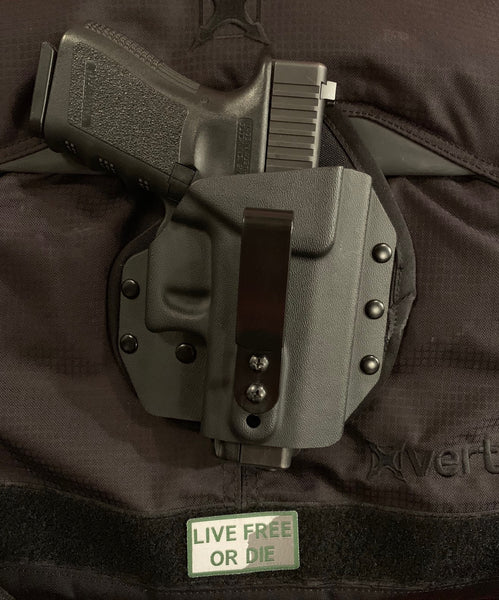 I am always in search of the perfect holster for CCW in a business casual environment. I can't wear untucked shirts and jeans on a day to day basis and I eventually run out of sweaters/fleeces/etc that allow me to easily conceal an inside the waistband (IWB) Kydex holster. I have used hybrid leather/Kydex holsters for many years from a well-known manufacturer, but they only build them specific to each model of firearm. I tend to rotate between a couple of go-to guns, which means I need multiple holsters.
So I was excited, albeit a little skeptical, when I heard about the Ultimate Holster (UH) from Ultimate Hybrid Technologies (UHT). It looked like it would be a smaller form factor than the more well-known leather/hybrids but potentially more comfortable. I was also excited to see it had only one clip, and that one smaller than I have often seen on other holsters. I was concerned about retention however, as well as risk when re-holstering. Total protection of the trigger guard is a must for me as well. UHT pitched it as Comfort meets Kydex.
UHT makes the holster with an outer Kydex shell, formed around a generic modern semi-automatic shape. Though they advertise that the holster supports over a 100 different handguns, my first impression was that they favored Glocks based on the Kydex shape. And in fact, my G19 did fit consistently the best, but more on the various guns I tried later. The holster comes with a choice of two clips, the Utiliclip3 (for use without a belt) or the Tacware belt clip. I selected the belt clip as I carry with a belt 95% of the time.
According to UHT the unique back is a memory foam spacer mesh from NASA with a 600 denier nylon attached to Kydex with a series of small rivets (coated so there is no metal to skin contact). The mesh is supposed to provide a sweat barrier/wicking layer and the memory foam cushions the mass of the firearm.
The first thing that will suprise most users out is that if you insert a firearm (any firearm) in to the holster without it being worn, there is no retention. The firearm will have lots of loose movement and play, and if the holster is inverted without your fingers holding the back of the holster, the firearm will fall out. Retention with this holster system comes only when it is worn. The company acknowledges that though in the literature that comes with the holster.
Fit
I tried several semi-automatics (modern and not so modern) in the holster, including 1911's, Browning HiPowers, Glocks, SIGs etc. All "fit" in the holster, to varying degrees of retention, but all had good coverage of the trigger guard. The more modern guns, Glocks and SIGs definitely gave you that classic Kydex "click" as you holstered. The HiPower and 1911 did not. In fact, with the HiPower, it just felt loose and sloppy in the holster, as did the 1911 (but more on that when we get to retention). I do think the large sight channel, which allows for the range of fireams the holster services, provides for some of the sloppiness with certain narrow frame/single stack firearms.
I did not test anything with an optic or light, though I would be concerned about the fit. For testing purposes, I primarily used a Glock 19 and a SIG 229.
Printing
I wore this holster with shorts and a sweatshirt, jeans and a t-shirt, khakis and dress shirts, and several other combinations. I wore it AIWB, at 3 o'clock and in the small of my back. I had non-existent to very minor printing in all these modes. I was particularly pleased to note that the single clip allowed for a tuckable carry, which worked well on my side and AIWB. The clip is also nice and discreet, unlike some of the very large clips used by better-known manufacturers. In the past I have had someone ask about the clips on my belt. I have no doubt this one will not even be noticed, yet keep the holster secure.
Retention
I can't emphasize enough that retention here comes from wearing the holster against your body. If you take the holster off, there is no native retention of the firearm. That said, when wearing this holster and carrying a modern double stack semi-auto handgun like a Glock or SIG, I had zero retention issues. This included engaging in varying degrees of physical activity including range work, carrying target stands, light jogging and farm chores. I shot hoops and even did handstands in my yard with full confidence in the holster's retention of my firearms.
The clip felt secure at all times, and wraps all the way around the bottom of the belt. Even the few times I wore the holster without a belt the clip held securely. Retention was an issue when I wore baggy sweatpants and had no belt. This holster is not going to have good retention in that scenario no matter what firearm is in it.
Unlike other reviewers, I never felt the need to unholster when using the restroom. While retention was not as secure, with a little care in placement, I never felt the firearm was at risk of falling out in the bathroom.
Lastly, I need to note retention was weakest when carrying a classic single stack 1911 or a Browning Hi Power. Both of them have narrow slide widths (.9 inches) compared to a G19 (1 inch) and smaller rounded trigger guards. As a result, they both felt a bit sloppy in the UH. I would feel reasonably secure carrying one, but only if I was not going to be engaged in any significant physical activities. It definitely would not be my first choice for a holster for those firearms.
Holstering/drawing/re-holstering
Every firearm I used holstered easily when I wasn't wearing the holster. The holster is definitely easiest to put on with a firearm in it.
Drawing was clean and easy. There was plenty of grip clearance around the belt, and I never felt my fingers were impinged by either the belt or the holster.
Re-holstering after drawing is trickier. With a traditional Kydex holster, the mouth of the holster remains the same size whether or not it holds a firearm. With the UH however, as soon as the firearm is drawn, the memory foam backer collapses in towards the Kydex shell, reducing the size of the opening. The net result is that it becomes harder to re-holster your firearm after drawing it, and there is a risk of flagging oneself on re-holstering. Practice does help obviate this risk, but the risk remains nonetheless. Interestingly, it is more an issue in the 3 o'clock position than AIWB as the hip pressure against the foam back is more significant than abdominal pressure. This is a significant design weakness in my opinion, but based on the materials they use and how the retention works, I see no way around it.
I didn't experience it, but it is also worth considering if there is the potential for the fabric backing to fray or otherwise get inside the trigger guard on reholstering. We have seen cases where other fabric or leather holsters have caused NDs on reholstering based on the material getting in the trigger guard and causing the discharge.
Comfort
Probably the best feature in my mind. It is a comfortable holster, even after carrying it all day long. The memory foam back wears easily against the skin and I had no hot spots or other irritations.
Bottomline
As we all know, there is no perfect holster. Go look in my gun closet, there are probably 30 different holsters in there. Just like your gun closet. But, UH has put forward an interesting offering that provides a comfortable fit, with the added versatility of accommodating a wide range of common semi-automatic handguns. If you are a 1911 guy though, I don't think this is the holster for you. Pricing on both holster options is excellent, at less than half the price of many of the leather/synthetic/Kydex hybrids out there.
Cost – List price is $39.95 for the Mk II with the Tacware belt clip and $49.95 for the MK I with the Utiliclip, well below many in its peer group. 5.
Comfort – Wears all day long without irritation. 5
Durability – Seems well made, though I worry that the foam will wear from contact with the firearm. 4.
Functionality – When worn properly, retains well, including a wide range of different firearms. My primary concerns revolve around re-holstering without flagging oneself. 3
Weight – Lightweight. 4
Overall rating – 21. I will continue to use this holster. The versatility and retention of my primary CCW firearms, combined with the low profile fit and tuckability make it a good solution for my standard environment. But it is definitely not for everyone.
Material Disclosure
I received this product as a courtesy from the manufacturer via Spotter Up so I could test it and give my honest feedback. I am not bound by any written, verbal, or implied contract to give this product a good review. All opinions are my own and are based off my personal experience with the product.
*The views and opinions expressed on this website are solely those of the original authors and contributors. These views and opinions do not necessarily represent those of Spotter Up Magazine, the administrative staff, and/or any/all contributors to this site.
read more at https://spotterup.com/comfort-meets-kydex-ultimate-hybrid-technologies-ultimate-hybrid-holster/